Emirates Airlines Business Class
Emirates Airlines is based in Dubai International Airport and is the largest operational airline in the Middle East with more than 2, 400 flights per week from its hub to more than 65 countries across 6 continents. Emirates Airlines is also known for its longest, non-stop commercial flights from Dubai to Houston, Los Angeles and San Francisco. The airline has more than 50,000 employees and is a subsidiary of The Emirates Group. The airway is wholly owned by the royal family of Dubai. The President of the airline is Tim Clark; Chairman and the CEO is Ahmed bin Saeed Al Makhtoum and the Executive Vice-Chairman is Sir Maurice Flanagan. The present company slogans are "Fly Emirates. Keep Discovering" and "Fly Emirates. To Over Six Continents". The airline subsidiaries include Arabian Adventures, Emirates Tours, Emirates Holidays and Congress Solutions International.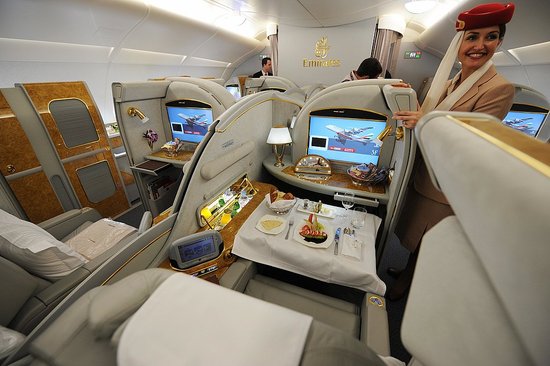 Generally considered to be a safe and reliable airline service, Aeroflot carries a large fleet under its helm consisting of most of the modern aircraft available today. Enjoy the experience of flying with Aeroflot the next time you travel to New York City, Washington DC, St. Petersburg, Frankfurt, London, Los Angeles, Tokyo, New Delhi, Bangkok, Tashkent or Cairo.
Regardless of whether you're traveling Business Class or first class, passengers choose Aeroflot over the others for its unparalleled comfort and luxury. Aeroflot designs its seats ergonomically to ensure you get the maximum space to enjoy a smooth, hassle-free flying experience. A wide range of exquisite culinary delights are offered to passengers on board, making them feel at home throughout the flight. Aeroflot also offers exquisite entertainment options to keep the travelers engaged especially over longer duration flights.
Emirates Airlines is the biggest airline of the United Arab Emirates. Each year, several new destinations are added to the carrier's service list. Currently, Emirates in not a member of any of the three global airline alliances: SkyTeam, Oneworld and Star Team. Though the airway is considering Star Alliance, so far Emirates is independent of any airway alliance. Emirates Airlines offers three travel classes, which include First Class, Business Class and Economy Class The First Class is further divided into two categories; the full suite and regular seating First Class. The full suite features fully closed doors, mini bar, coat rack and storage. The seat is convertible into a fully reclining bed.