Emirates Airlines Business Class
About Emirates
Emirates Airlines is based in Dubai International Airport and is the largest operational airline in the Middle East. It conducts 2, 400 flights per week from its hub to more than 65 countries across 6 continents. Emirates Airlines is also known for its longest, non-stop commercial flights from Dubai to Houston, Los Angeles, and San Francisco. The airline has more than 50,000 employees and is a subsidiary of The Emirates Group.
The airway is wholly owned by the royal family of Dubai. The President of the airline is Tim Clark; Chairman and the CEO is Ahmed bin Saeed Al Makhtoum and the Executive Vice-Chairman is Sir Maurice Flanagan. The present company slogans are "Fly Emirates. Keep Discovering" and "Fly Emirates. To Over Six Continents". The airline subsidiaries include Arabian Adventures, Emirates Tours, Emirates Holidays and Congress Solutions International.
Emirates Airlines is the biggest airline of the United Arab Emirates. Each year, several new destinations are added to the carrier's service list. Currently, Emirates in not a member of any of the three global airline alliances: SkyTeam, Oneworld and Star Team. Though the airway is considering Star Alliance, so far Emirates is independent of any airway alliance.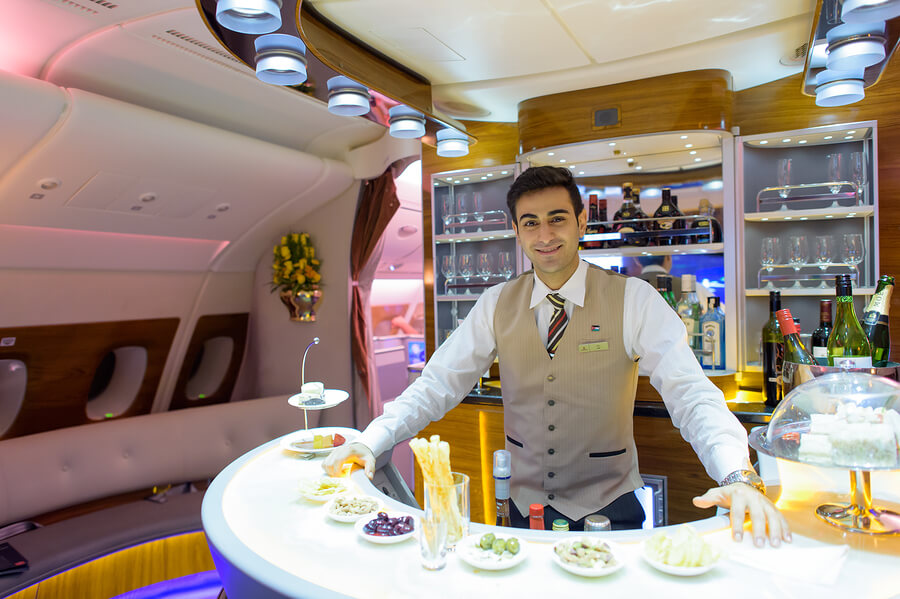 Emirates Airlines Business Class
Emirates Airlines offers three travel classes, which include First Class, Business Class and Economy Class The First Class is further divided into two categories; the full suite and regular seating First Class. The full suite features fully closed doors, mini bar, coat rack and storage. The seat is convertible into a fully reclining bed.
Emirates leads a high standard in business class. Business class with Emirates includes high-quality seats that adjust to be lie-flat.  Long-haul amenity kits currently include BVLGARI product. In-flight entertainment is provided, with over  2,500 channels of music, television, movies, and more. Dine on chef-crafted plates for as long as you would like. Fly business on Emirates' A380, you will be able to grab a drink as you please at Emirates' onboard bar and lounge, the same space shared by first class flyers. Business class travelers going to or from Dubai will also have access to Emirates' BMW chauffeur pick-up and drop-off service.
Flying with Emirates in Business Class is sure to be a memorable experience.