Air France Business Class

About Air France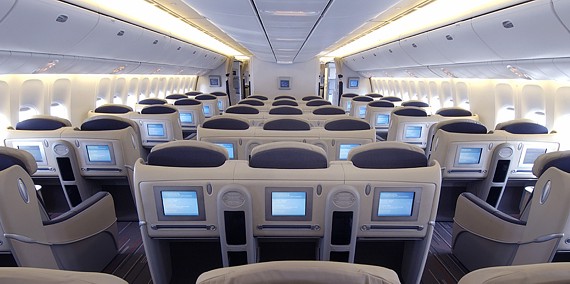 Air France gives away exciting offers to its first class passengers by providing them with comfort, luxury, and privacy in their personalized cabins. A warm, truly pleasing staff greets you as you step into the plane and helps you to your seats. Delicious meals and round the clock service makes flying with Air France a worthwhile experience. What's even more exciting is that the airline keeps coming up with offers to upgrade their seat class, which helps passengers to switch to the Business Class at half price.
Air France Business Class
Air France serves complimentary champagne to all its passengers irrespective of the class that they are flying in. For the first class flyers, the menu has been designed by Chef Guy Martin and includes bread basket, cheeses, entrees, hors d' oeuvres, tartlets and petit fours. Business class flyers will also dine on cuisine made by renowned, Michelin-starred chefs. Business class seats lie-flat and are 6.5 ft (3m) long.
Business class seats lie-flat and are 6.5 ft (3m) long. Business class seats each have their own reading light and personal phones to make calls via satellite.
The frequent flyer program of Air France is known as "Flying Blue" and awards free flying points based on miles traveled and class of service. You can use this program to win free air tickets to local and international destinations alike.