WELCOME TO OUR TRAVEL BLOG
Etihad's Business Class Wins Again
The Best Travel Media Awards gave 'Business Class of the Year' award to Etihad Airways, the national airline of United Arab Emirates, for the second year in a row. The awards ceremony was held in Beijing.
Etihad's business class—Pearl Business Class has taken four awards from China's Best Travel Media Awards in all: Fastest Growing Airline of the Year in 2009, the Best Airline for Promoting New Routes in 2011, and Best Business Class of the Year in 2012.
The airline's President and CEO, James Hogan, said: "We are pleased and proud to win Best Trave;s Business Class of the Year award for a second year as it recognizes our commitment to a business class product and guest experience which is not only best-in-class but also – on our flights to China – caters to the particular needs of Chinese travelers."
He continues, "With so many national and international airlines serving the Chinese market today, travelers are spoiled for choice when it comes to travel provider so we are delighted to receive such an accolade in a competitive and, for Etihad Airways, an important market."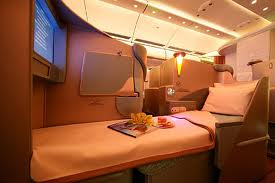 Best Travel is one of China's top travel trade publications, judged by a panel of industry experts. These awards are held annually. The accolade is reserved for the airline who serves the Chinese market with superior in-flight service, food, beverage and seating.