WELCOME TO OUR TRAVEL BLOG
Spirit Airlines and Elon Musk Join Forces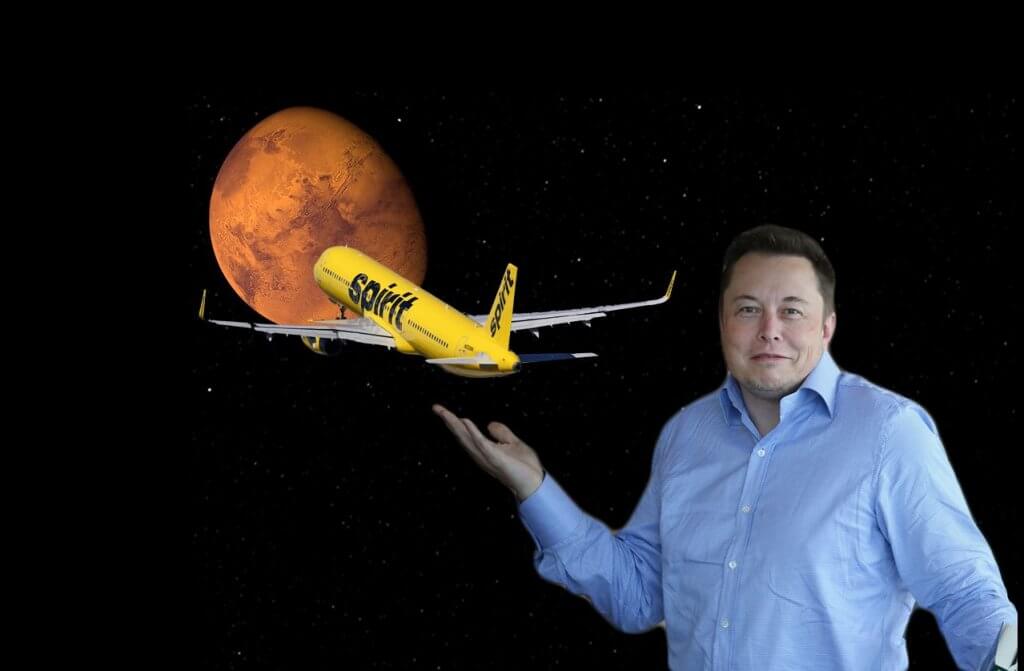 BREAKING NEWS: Spirit Airlines and Elon Musk are now joining forces.
There are people who remember watching Neil Armstrong land on the moon. Now, those same people may be able to step on Mars themselves. 
Elon Musk has teamed up with Spirit airlines to create affordable space travel.  Musk has been noted for his achievements in technology and clean energy. It's said that Musk had been quietly working on his side project, the Musk Electric Jet. Spirit contacted Musk about being first in line to buy one. Upon this conversation, Musk proposed to team up with the budget-airline to create budget-friendly space travel. 
Previous reports estimated a one-way ticket to Mars ranging around $200,000. In an effort to make sure that everyday people can have the luxury of visiting space, costs will now be around $8,000 for economy and $30,000 for business class for a round trip.
Spirit Airlines will stay true to their no-frills promises. The most budget-conscious travelers can keep their prices down by staying on-board the plane. If you care to step on the little red planet, you can rent a space suit for an additional cost. Space food will be given to business class travelers only, so plan accordingly.
If $8,000 is still out of your budget, donations will be accepted for a raffle. Every $10 donated to the raffle will equal one entry.  Proceeds will go to one lucky person's all-expenses paid trip to Mars. 
Tickets are now available for pre-order.
Send donations for the raffle to nowhere since this is an April Fool's joke. We apologize if you already started ordering space food for your economy trip. Share this article with friends and family to see who else falls for it. With enough shares, Elon Musk might get the message that the world is ready to see this April Fool's Day joke turn into a reality.