WELCOME TO OUR TRAVEL BLOG
U.S Low Cost Airlines Excited to start Providing Flushable Potty Economy Seats
The Low Cost Airline Association announces a new, groundbreaking, economy potty seat they say will offer an exciting, new perk to low cost air travel
Fremont, CA – December 17, 2012 – A new trend is on the rise among the nation's low cost carriers. A new seat design which includes a flushable toilet at each passenger seat has been created and is currently awaiting approval from the FAA. "We hit the jackpot here. It's a win, win for everyone. Not only will passengers not have to disturb their seat mates by crawling over them to get to the bathroom but we can also increase revenue by adding 5 additional rows where the lavatories once where" says a CEO of a prominent American low cost carrier.
The convenience of using your own seat when nature calls will come at a price. Many of the carriers who plan to install the new seats during the second quarter of 2013 plan to up sale the luxury by excluding the toilet paper. "We feel 25 cents a square is sufficient. We want to stay eco-friendly also and feel if we made it free, passengers may over use the toilet paper" says Low Cost Airline Association President and Spokesperson, Albert Corvales.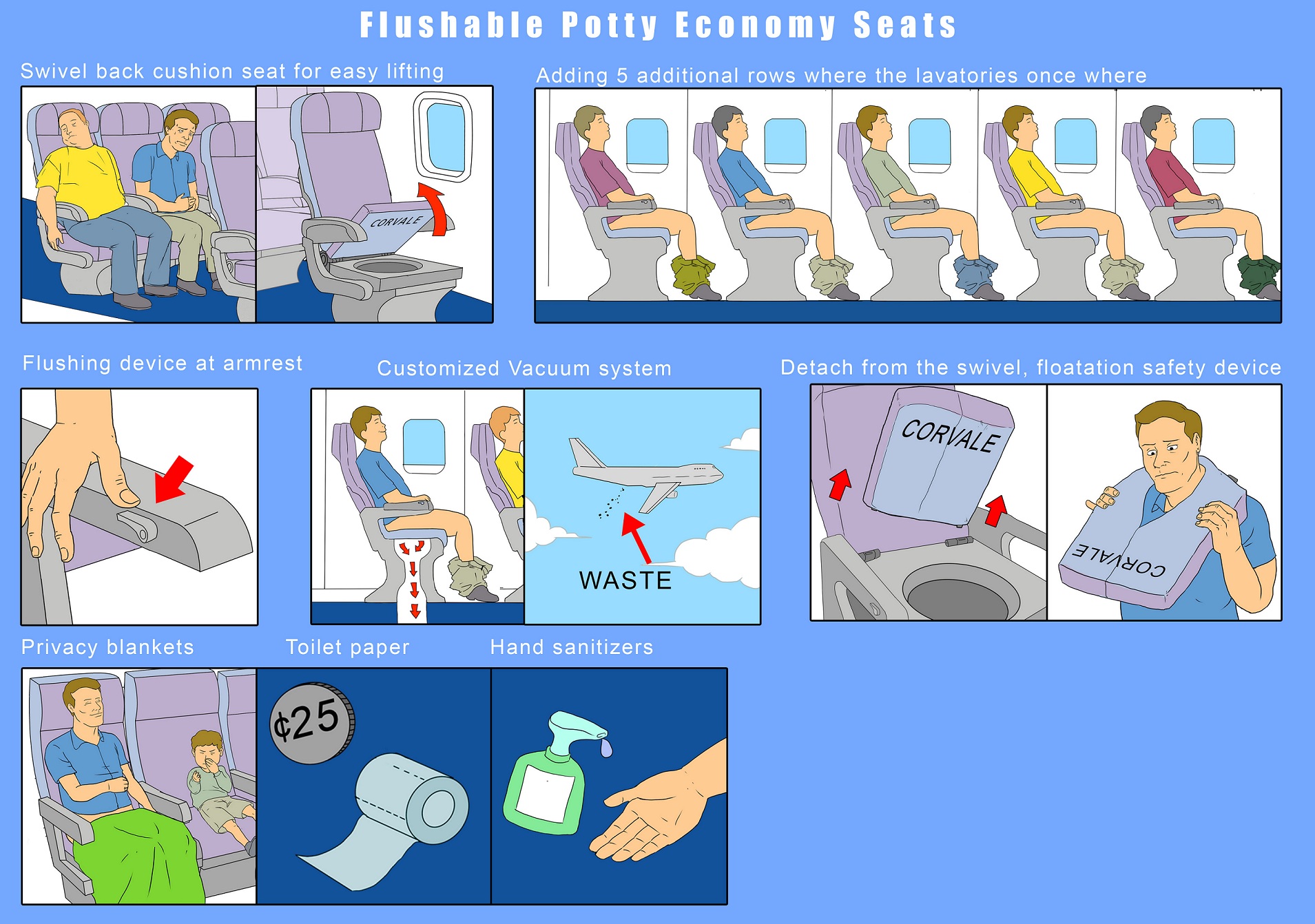 The seat design will feature a swivel back cushion seat for easy lifting. A flushing device will be installed next to the standard armrest volume control knobs at every seat. "The seats will look just like a normal economy class seat but the cushion lifts up revealing the toilet" says Corvales. He also adds that the cushions will still be used as a flotation safety device in the event the airliner has to make an emergency ditch into water and the cushions can easily detach from the swivel if need be.
In addition to the new seat, the aircraft will also be equipped with a state of the art, customized vacuum system to remove the waste from the airplane in flight. "This new system will increase our fleet's fuel efficiency by eliminating the additional weight caused by waste build up, especially on those longer flights" Corvales says.
Opponents of the new seat design claim the new luxury will cause a severe health risk to all passengers on board. Supporters say otherwise. "We have no intention of ignoring the sanitary risks. We will be offering other items such as personal hand sanitizers, privacy blankets and air fresheners at an additional cost to those who may need them. The toilets won't even have water in them" Says Corvales.
The folks at the LCAA are confident their passengers will be pleased with these new seats and expect the FAA to reach their decision sometime in January. "We were under a lot of scrutiny from the flying public about our outrages bag fees and felt it was time to reward them with a convenient amenity they are sure to enjoy"
About Lets Fly Cheaper
Lets Fly Cheaper.com is a low fare specialist, focused on supplying cheap business class flights to international destinations worldwide. To book the lowest fare contact one of their travel agents at 1-800-240-0461 or go to www.letsflycheaper.com